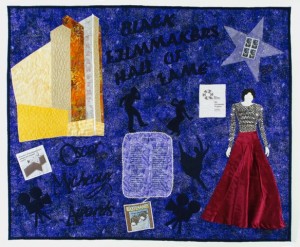 Neighborhood Coming Together: Quilts Around Oakland
Neighborhoods Coming Together:  Quilts Around Oakland is a citywide quilt exhibition and quilt making project developed by the African American Quilt Guild of Oakland (AAQGO) for 2014-2016.  The project involves creating quilts about people, the environment, history, business, culture and other aspects of life in Oakland.  Over 100 quilts have been made by guild and community members during the project period. Community quilt workshops have been conducted in schools, community centers and non-profit organizations.
This project was funded in part by Alliance for California Traditional Arts, The Clorox Company Foundation, Alameda County Arts Commission, Hoffman Fabrics and members of the African American Quilt Guild of Oakland.To learn more about the project and stories behind some of the quilts, read the
February 2, 2016 New York Times article, "Quilts With a Sense of Place, Stitched in Oakland" by Patricia Leigh Brown.
Neighborhoods Exhibition, National Quilt Museum, Paducah, Kentucky     –        February 17,  through April 11, 2017

Additional showings will be announced as they are confirmed. Visit again for updates. Quilts will also be exhibited at participating schools and senior centers. THINK OAKLAND—THINK QUILTS