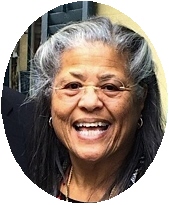 PRESIDENT MESSAGE
On February 27, 2016, we celebrated our annual Black History Month Family Celebration. The day was an overwhelming success! Over 60 families came to learn how to quilt.  It was a   multigenerational day.  We had beginning quilters as young as 5 years old to over 90 years old. It was a great day for the future of the quilting tradition.
Currently, we are in the midst of our Quilt Show, "Neighborhoods Coming Together: Quilts Around Oakland." Our quilts have graced the walls of the City Hall of Oakland.   Our Quilt Show quilts have graced the front page of the ARTS section of the New York Times.  KQED radio invited Guild members to discuss our show on the Forum radio program.  As you look through our website, you can view our Quilt Show schedule.
I am glad you "clicked" on our website. I encourage you to explore our site.  If you live in Oakland, please come to one of our Guild meetings.
Blessings,
Marie de Porres Taylor
President