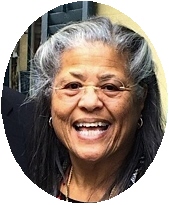 PRESIDENT MESSAGE
As summer approaches, the days are getting longer which provides abundant light for quilting projects. Sure the outside will call you but you can always do hand word on your patio or by your pool or in the park.  The main this is to motivate yourself in the creative processes of quilting.  For members one of your projects should focus on fulfilling your obligation for our worthy cause project.
"Neighborhoods Coming Together: Quilts Around Oakland" which is our quilt show continues to be an overwhelming success! As summer comes, we continue to have showings of our quilts.  Make sure that you check the "Oakland Quilt Project" tab for the list of the remaining shows.  Because you visit one show, it does not mean that you have seen all of the quilts that make up the entire show.  At each site you will discover new quilts.
Just as the nation is electing new leadership, this is an election year for the Guild. Our Parliamentarian and Nomination chairperson, Marilyn Handis, is diligently working to find members who are ready to lead the Guild for the next two years.  Give some thought to volunteering for an elected office or chairing a committee.
It is exciting to greet new members at our Guild meetings! Our theme of "Back to Basics" which our Vice President, Ann Robinson, is spearing heading is motivating both new and seasoned to select fabric, cut fabric, piece and finish a quilt!  It is time to refresh our skills, learn new things, and make new friends.  Come and join us at our meetings which are the fourth Saturday of each month at the West Oakland Martin Luther King, Jr. Public Library in Oakland.
I would like to leave you with a quote from an unknown quilter: "Don't worry about today. Do a little quilting and everything will be okay!"
Blessings,
Marie de Porres Taylor
President